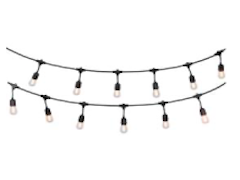 Tent Lights Includes Install/Removal
String lights can be added to our tents for $1.50 per foot installed.
We provide a 50ft extension cord. If your power source is further than 50ft, you will need to provide the additional extension cords. Please note that we do not rent lighting separately and we must install. (no DIY). Contact us and we will help calculate the length of lights that you will need.