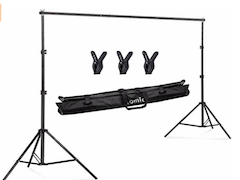 Photo Backdrop Frame
This backdrop support system is a popular choice for new photographers, vloggers or for use as backdrops for photobooths and events. Please note that the rod only supports lighweight materials such as paper or our sheer drapes.
The height is adjustable (min 2.7' and max 8.5') with an adjustable with (5' to 10') We recommend 4 of our sheer drapes to create a soft, romantic backdrop.
Check out our pipe and drape stands if you are hanging our polyester curtains or other heavier fabrics.
This product is easy to transport!