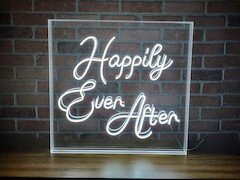 Happily Ever After Neon Sign
Customer Favorite!
Our white neon Happily Ever After sign is self-standing. It does have two holes on the back if you prefer to hang it, but please be aware, this item is fairly heavy and needs a stable support.
This sign is just shy of being 2ft square (23.5" x 23.5"). The power cord is 5 ft long.