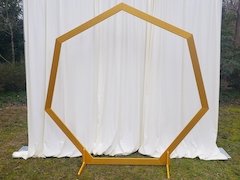 Gold Hexagon Backdrop




$100.00

Please call to reserve this item

Brand New Item!!!!
A true crowd-pleaser! Our hexagon backdrop has the most beautiful gold sheen and can be customized to suit your taste. It is 72" at the tallest and widest points (it can easily be elevated on a rectangular box/stand to make it taller if you wish). Not only is it stable and easy to assemble, but it also breaks into multiple pieces so it can fit in a standard car!!!
Designer tip: Our silk flower arrangements make decorating this backdrop easy!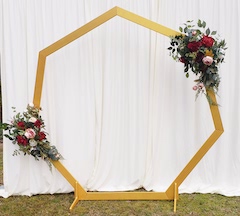 Note: Please be gentle with the finish on this custom rental. All decor must only be wired onto the screws on the back of the frame. Absolutely no nails, Command Strips, tape, etc. can be used. Contact us with any questions.