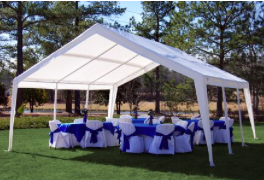 20x20 Canopy Tent Includes Setup
Our canopy tents are ideal for casual events. They will provide shade and protection from light rain. Price includes setup and breakdown of each 20x20 canopy tent if ancoring in grass. An additional fee will be added is we need to anchor on a hard surface such as concrete. Multiple tents may be lined up together to create one long tent (rain gutter not available so you will have a seam). A 5 foot clearance on all sides of the tents are required for achoring (must have a minimum of 25x25 foot space). The lot must be level and no power lines, tree limbs etc can hang where the tent will be placed. Please call us with any questions.
Check out our high peak 20x20 tents if you need a heavy duty tent, are interested in sidewalls or need rain gutters between connecting tents.
Delivery must be added to all tent orders. Please make sure to add delivery to your cart. You can find the item under the "services" tab or contact us for a delivery quote for orders over $600.

Tent Capacity per 20x20 Canopy Tent:
We recommend up to 32 for a sit down dinner

Up to 54 people for a buffet-style dinner (will be tight)

50 people for cathedral (row) seating

80 people for a cocktail party
The seating charts below are designed to help you visualize how many tables and chairs will fit under each tent. These layouts show the absolute maximum amount of tables and chairs that can be used. We never recommend that our customers max out their space and are happy to provide suggestions 336-655-0010.