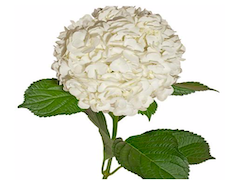 White Hydrangea




$15.00

Please call to reserve this item

$5 Stems for $15

Recommended Delivery/Pickup Date: 2 days before your event
Average Bloom Width: 4 to 6 inches
Average Stem Length: 12 to 16 inches

If your event is Saturday suggested delivery day is Thursday.

Hydrangeas are available year round.*

Hydrangeas feature one bloom per stem.

Expected vase life is an average of 5 days with proper care and handling.

Hydrangeas tend to vary in color from bloom to bloom; this is a naturally occurring phenomenon.

Hydrangeas love water, make sure to monitor the water levels in your containers!

Since flowers are a product of Mother Nature and due to variation in monitor resolutions, the exact color tones of this flower may vary to some degree.