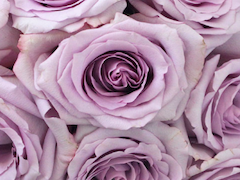 Ocean Song




$45.00

Please call to reserve this item

Ocean Song roses are a lovely shade of light lavender and are ideal for bouquets and centerpieces.
Recommended Delivery/Pickup Date: 3 days before your event
Average Bloom Width: 2 to 3 inches

If your event is Saturday suggested delivery/pickup day is Wednesday.

25 stems per bunch.

Within each bunch, the roses are packed in two layers to ensure protection during shipping. From the top angle, it will appear that you only have 12 rose stems in the bunch; however, below this layer there is a second layer containing the remaining 13 roses.

Roses are in bud form. Once the rose is processed and hydrated, the bloom will open to a larger size

Roses will have guard petals intact to protect the roses while travelling and might cause the rose to look distorted, discolored and/or bruised. Once you are ready to process your roses, you may need to remove up to 8 guard petals per rose to reveal the pristine quality rose bloom.

Expected vase life is an average of 8 days with proper care and handling.

Since flowers are a product of Mother Nature and due to variation in monitor resolutions, the exact color tones of this flower may vary to some degree.
*Package contents and prices are based on availability and are subject to change due to weather and market conditions.
+Your flowers may look thirsty and sleepy. This is absolutely NORMAL. Please refer to our Flower Care tab on this product page for a descriptive process on care and handling instructions.
++In the event that a substitution may be necessary, we take the utmost care in assuring that your order is as similar to your original flower choice as possible. While we will always try to reach you if this situation arises, occasionally time will not allow for this, and flower substitutions may be made without verbal confirmation from you.

All sales are final