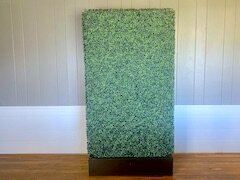 Greenery Wall
New Item!
Perfect for backdrops or hiding something unsightly. Our boxwood hedge wall is double sided and sturdy. One panel measures approximately 3'2" wide and 7' tall.
Put two panels together to create one wide hedge wall!
This item is heavy! We must deliver this item unless approved by us prior to ordering.
For those who want to decorate the wall- please note that the wall is solid in the center so you cannot stick flower stems, etc through the wall. No nails or staples may be used. Please contact us for details.