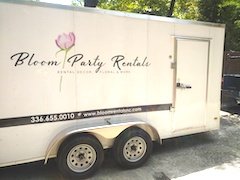 Driveway Delivery Orders Between $150-$999
For orders totaling $150-$999 (before delivery fee), standard delivery is $88 within 18 miles of 27106. This fee includes delivery the day before your event and pickup the day after your event between 8:30am-6pm. It is $10 per mile (including delivery and pickup) for each additional mile. The minimum order for delivery is $150 not including the $88 fee. Please go back to the "Services" page and select the proper fee if your order is beween $1,000-$1,800 or call us at 336-655-0010 for a quote for deliveries over $1,800. Please contact us if you need the items delivered and picked up the same day of the event or at a particular time.
We only drive on paved asphalt/concrete. We will not drive on gravel or grass. We will drop off the rentals in your driveway, garage or commercial entrance (or within 10 feet of reasonable parking). An extra fee will be added for stairs, elevators, etc. Please contact us for pricing for further information if these conditions apply to you. Delivery and pickup is between 8am-6:00pm. We will contact you a day before the event to provide a 3 hour window eta. After hours pickup can be requested for an additional fee. A $150 fee will be applied if you need delivery within a 30 minute window. Delivery does not include setup. Please have all items clean (excludes linens) and stacked where they were dropped off before we come pick them up to avoid fees. We typically bring our 14' trailer so please have ample parking available. We will not be able to deliver if road/parking conditions are not acceptable. Contact us with any questions.