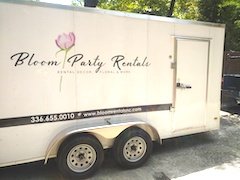 Delivery
Standard delivery is $65 within 20 miles of 27106. It is $4 per mile (including delivery and pickup) for each additional mile. We will drop off your items within 25 feet of our trailer. This does not include stairs or elevators.
Please contact us for pricing for further information if these conditions apply to you
. Delivery and pickup is between 10am-6pm. You may request a particular time in the customer comment box at checkout. We will contact you a few days before the event to provide an eta. After hours pickup can be requested for an additional fee. Delivery does not include setup. Please have all items clean (not including linens) and stacked before we come pick them up. We typically bring our 14' trailer so please notify us if there are any steep roads, gravel, mud or tight access. We will not be able to deliver if road/parking conditions are not acceptable. Please leave plenty of parking for our driver. Contact us with any questions.