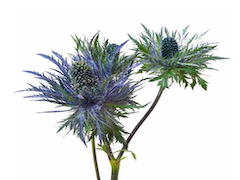 Blue Thistle




$16.00

Please call to reserve this item

Add texture and a touch of blue by incorporating this interesting flower to your arrangements. Thistle has a distinctive spiky snowflake-shaped bloom with a cone center. Each stem averages between 2 and 5 blooms. Varying from a grayish blue to royal purple blue, this durable flower is a customer favorite

.
Approximately 10 stems per bunch.
Recommended Delivery/Pickup Date: 3 days before your event
Average Stem Length: 20 to 27.5 inches
If your event is Saturday suggested delivery date is Wednesday.

Average bloom size is 1 to 3 inches.

Average cone size ranges from 1/4 in to 1 in.

Each stem has a spray of 2 to 5 primary blooms, and several possible smaller blooms.

Expected vase life is an average minimum of 8 days.

Thistle is a thorny plant with a beautiful flower.

Since flowers are a product of Mother Nature and due to variation in monitor resolutions, the exact color ones of this flower may vary to some degree.