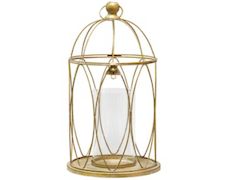 16" Birdcage Candle Centerpiece
New Item!
Perfect for centerpieces on our 60" round tables. Easy setup and very versatile. The finish on the steel frame is a soft gold brushed with white to create a antique look.
Candle not included. Please use a LED candle so wax doesn't ruin the item.
Exterior is 16" x 8.66" x 8.66". Glass cylinder is 8" tall and 3 5/8" in diameter. A 3" wide LED candle fits perfectly.